Back to blog
Relighting an Icon and the Importance of Mockups
ARTICLE POSTED BY: Steve Gollehon, LC, IES
It is a rare and special privilege to re-design the lighting for one of the most iconic buildings in your hometown. Our current project with First National Bank is very unique – to develop a new façade lighting solution for their downtown high-rise tower. In addition to being a very complex and challenging project, the new lighting solution will be on display for the entire city every evening as part of the Omaha skyline. It was extremely important to preserve the identity of the tower while improving aesthetics, reducing energy consumption, and resolving maintenance issues that were pitfalls of the existing system. We understood both the significance of the task and the level of detail required to make the project a success.
The existing lighting system mainly consists of 1000W metal halide luminaires mounted in various locations throughout the tower. While these light sources have excellent light output and optics, they have inherent issues with short lamp life and color shift that occur over time. These issues become even more salient when luminaires are located in areas that aren't easily accessible for maintenance. With recent advances in technology, there are now LED solutions that can achieve the desired lighting effect and have substantial improvements in color consistency and system longevity.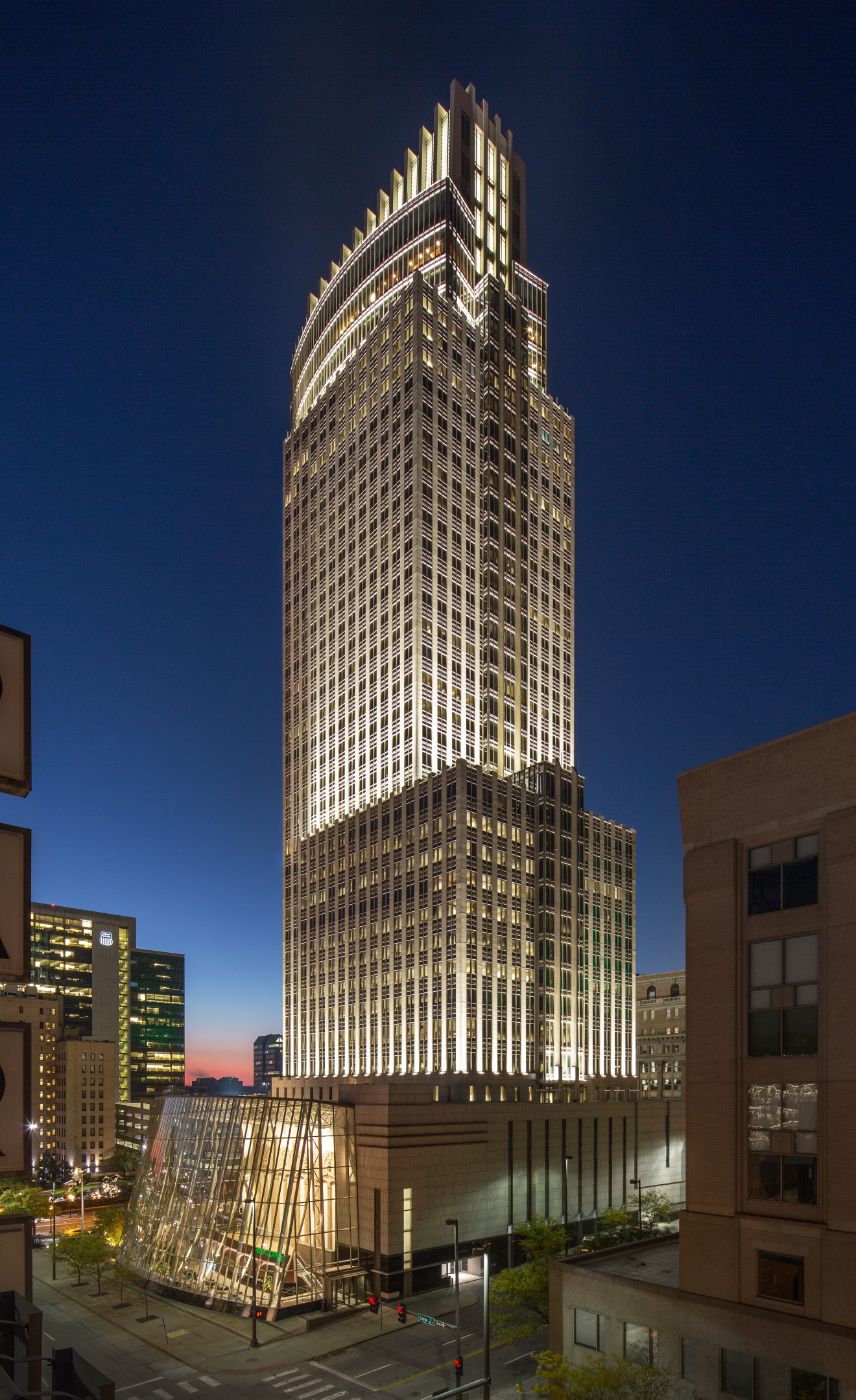 Advanced 3D modeling was used to perform detailed lighting calculations and identified the LED solutions that offered the best performance. However, we also understand the limitations of computer modeling and the importance of mockups for a project of this significance. This provided a valuable opportunity to substantiate our recommendations and assess subtle details that have a large impact on the final product. Our friends at Commonwealth Electric were generous enough to help us with this mockup on a cold evening in January.
While visually examining the mockup is a great way to assess differences in color and light distribution, we have expertise in advanced lighting measurement techniques that allow us to measure the luminance, or brightness, of the various options. We employed a technique called high-dynamic-range imaging that allows us to generate luminance maps to compare different aiming and lensing options that are available.
Key to meeting expectations is the translation from concept to reality, and mockups provide an extremely valuable tool for the transition between the two. The final lighting solution for the tower will decrease maintenance, reduce energy consumption by 88%, and help restore the iconic image of the tower at night. It is this level of detail that differentiates our firm and underscores the value of having an experienced lighting consultant on every project.