Back to blog
27kW Photovoltaic System Expansion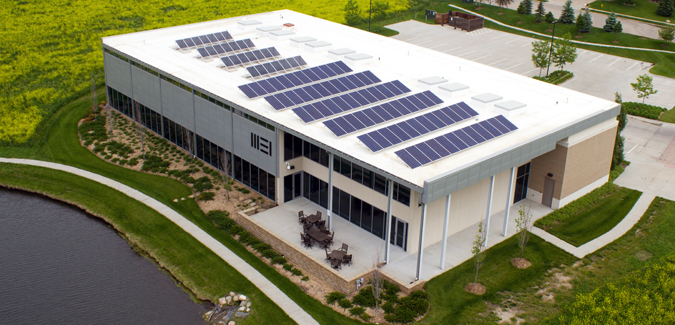 Just in time for a sunny summer, Morrissey Engineering is excited to reap the benefits of a major expansion of solar powered energy production serving its headquarters at 4940 N. 118th Street.
MEI's initial foray into photovoltaic (PV) power generation fueled by energy from the sun alone began with the installation of 5.5kW of capacity in the fall of 2010. Over 3 full years of production data as well as experience with other PV projects have proven the technology can be a robust, dependable option for the production of renewable energy. With significant cost reductions in commercially proven PV equipment in that same period, MEI has now increased the size of their system to 27kW, with an expected annual energy production that will serve at least 20% of the building's energy consumption.
To better serve its clients, MEI has extensive monitoring in place that will reflect what the systems performance is on a daily basis. This includes a solar system and environmental meter here, a building energy usage dashboard here, and historical PV data here.
While energy performance is a valued component at MEI's LEED Platinum certified office building, economics is a critical component for every business. Contrary to what many may expect for power generated from a PV system, MEI will actually pay less for the energy the system produces than the energy they are paying for from the local electric utility. "With an upfront expenditure providing years of clean energy to our office building, we view this investment as a pre-purchase of energy at a lower fixed rate than what we would otherwise be purchasing it for when amortized over the life of the installation. In essence, it is an economic hedge against rising electric utility prices" says Principal George Morrissey.
With higher summer utility electrical rates starting June 1st for many in the region, others may be asking if they too can save with PV energy. Morrissey Engineering can provide feasibility analysis for those who are interested in this technology for their own building. This review usually involves analysis of the customer's existing utility billing data, the available roof or land available for an installation, as well as ability to maximize available incentives. Where a PV system can meet a clients expectations, Morrissey Engineering specializes in providing esthetically appropriate solutions that will last for many years into the future - a critical requirement for positive economic outcomes.