Back to blog
Ambient Conditions for WELL in Omaha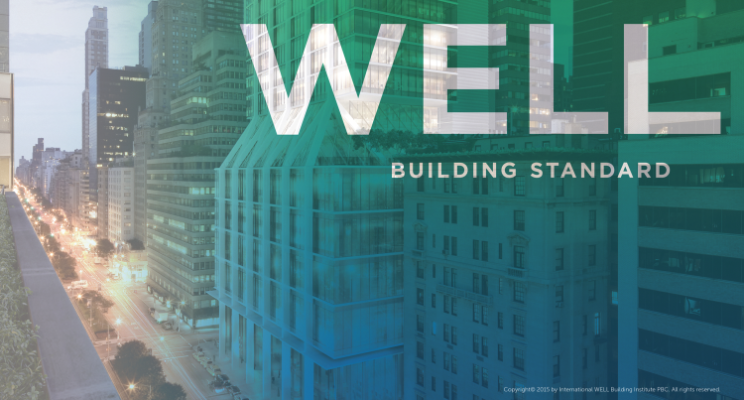 ARTICLE POSTED BY: Sarah Gudeman, PE, CEM, LEED AP BD+C, Mechanical Engineer & Energy Analyst at Morrissey Engineering
WELL, WELL, WELL...
Too much?
The WELL Building Standard® is a "performance-based system for measuring, certifying, and monitoring features of the built environment that impact human health and well-being, through seven categories: Air, Water, Nourishment, Light, Fitness, Comfort, and Mind".
It is not an acronym for anything insofar as I'm aware.
WELL is grounded in a body of medical research that explores the connection between the buildings where we spend more than 90% of our time, and the health and wellness of occupants. Ultimately the goal of these buildings is to help create a built environment that improves the nutrition, fitness, mood, and sleep patterns.
So, it's like LEED?
It's hard to not attempt to draw immediate comparisons to the LEED rating system (which is an acronym... for Leadership in Energy and Environmental Design). The green building certification system you all know and love, as managed by the U.S. Green Building Council. And while the programs have many synergies, and are both third-party certified by the Green Business Certification Incorporation (GBCI), they're not ultimately the same type of thing.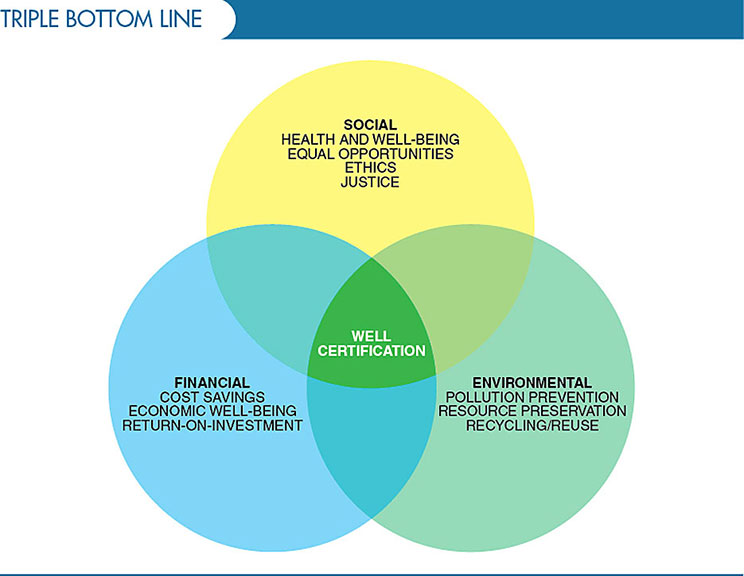 The best comparison I've heard thus far... while they both focus on environment;
LEED is for Buildings, WELL is for People.
So while LEED is focused on building performance (with a heavy emphasis on energy and environmental impact of construction). WELL focuses on improving the ROI from the highest cost investment on any project or business... People.
There are all kinds of facts and figures you can find on the correlation between healthy buildings, happy employees and greater productivity all throughout the standard and references. Things like:
Productivity improvements of 8-11% are not uncommon as a result of better indoor air quality.
There are also a myriad of frightening data points on the adverse affects of modern living, like:
In the 1990's, a U.S. Geological Survey detected pesticide compounds in virtually every stream in agricultural, urban, and mixed-use areas, as well as in 30 - 60% of the groundwater.
Anyway, WELL covers all kinds of interesting topics via 100 Features (+ 5 Innovation Features), but for the purposes of this post we're only going to get into three.
So, what about Omaha?
At the time of this writing, there are 329 WELL projects in the world either Registered, Certified or Pre-Certified.
221 are located in the United States
18 of those are in the Midwest
Zero are in Nebraska (though I know of at least 2-3 Omaha projects in pursuit)
Before we know who will win the race of 'First WELL Certified project in the state', I thought it would be interesting to share some baseline criteria for the applicability of the standard.
There are certain preconditions that WELL projects must meet to demonstrate a project complies with the foundations for wellness in the built environment. Several preconditions are based on ambient air and water quality at the site. These levels are measured by a Performance Verification Test for each project, and should be done early in the process (in case any minimum thresholds are exceeded and corrective action is required).
If you've ever worked with me on a LEED project in the past, I may have said something along the lines of "There are no LEED police".
But there are WELL police.
They [unfortunately] don't actually enjoy that title, but as part of the certification process, a WELL Assessor comes to your project and takes a series of Performance Verification tests. Among these are air & water samples, verification of a smoking ban, mold inspections, inspection of hand-washing facilities, nutritional information & messaging, food labeling, stair accessibility and promotion, aesthetics, and sound levels (depending on the optimizations you're pursuing all of these may not need to be verified).
Air and Water though are always sampled at the project site to some level. So we're going to focus on those.
AIR
Feature 01 - Air Quality Standards requires indoor air levels meet the following (if you want to run your own IAQ pretest this would run on the order of around $2,000 for a small office building, like ours):
Formaldehyde levels < 27 ppb
TVOC (total volatile organic compounds) < 500 µg/m3
CO (carbon monoxide) < 9 ppm
PM2.5 (particulates with a diameter less than 2.5 micrometers) < 15 µg/m3
PM10 (particulates with a diameter between 2.5 and 10 micrometers) < 50 µg/m3
Ozone < 51 ppb
Radon < 4 pCi/L in the lowest occupied level of the project
A possible compliance path for Feature 03 - Ventilation Effectiveness states that the project ambient air quality (as measured within 1 mile of the site) is compliant with either the U.S. EPA's NAAQS or passes the Air Quality Standards feature (above) for at least 95% of all hours in the previous year. This is only for projects that utilize natural ventilation, so it's unlikely to be a compliance path we have to tackle here locally. (Though we am looking into testing and ambient air levels for a baseline). The good news is that 2015 NAAQS data shows we're under the limits for the Omaha-CB metro for what I was able to verify.
WATER
Lots and lots of chemicals that you probably didn't even realize existed are being tested for all the time by MUD Omaha at the area's various water treatment plants. There is also a wealth of information available in the publicly-available annual Water Quality Report.
Features 30, 31, 32, 33 and 34 are all preconditions (required) and cover required limits for 26 potential water quality indicators, contaminants, and additives. Many of which, though tested for by MUD, aren't directly reported to the public in the water report (antimony, mercury, styrene, benzene, ethylbenzene, PCBs, vinyl chloride, toluene, total xylenes, tetrachloroethylene, simazine, glyphosate, 2,4-D, nitrate, and residual chloramine).
We reached out to MUD and at the time of this writing, have not heard back.
The good news is that the only item in which MUD maximum measured levels exceeded the WELL recommendation was Nickel. (Is that good news?) Nickel is not currently regulated by the EPA, but the inhalation of nickel is potentially carcinogenic... Exposure to skin may cause dermatitis... High levels of nickel can become toxic. Anyway, the maximum reported nickel was only slightly above the WELL limit, which is encouraging. And the average level detected was well below that.
Finding a testing laboratory that can perform all of these tests is a little tricky also (we did eventually). Testing for all of these 26 items at a specific project site would run on the order of $2,000. And preliminary water testing should be done first, before a project even decides to invest in registration for WELL - which can be a hefty investment in and of itself. If you're in the Omaha metro, it might be a good first step to test for Nickel specifically, which would only run about $20 and can be done here locally.
So that's it for now.
All's WELL that ends WELL. (Sorry, I can't avoid a good pun).