Back to News
Sarah Gudeman Selected as 2021 LEED Fellow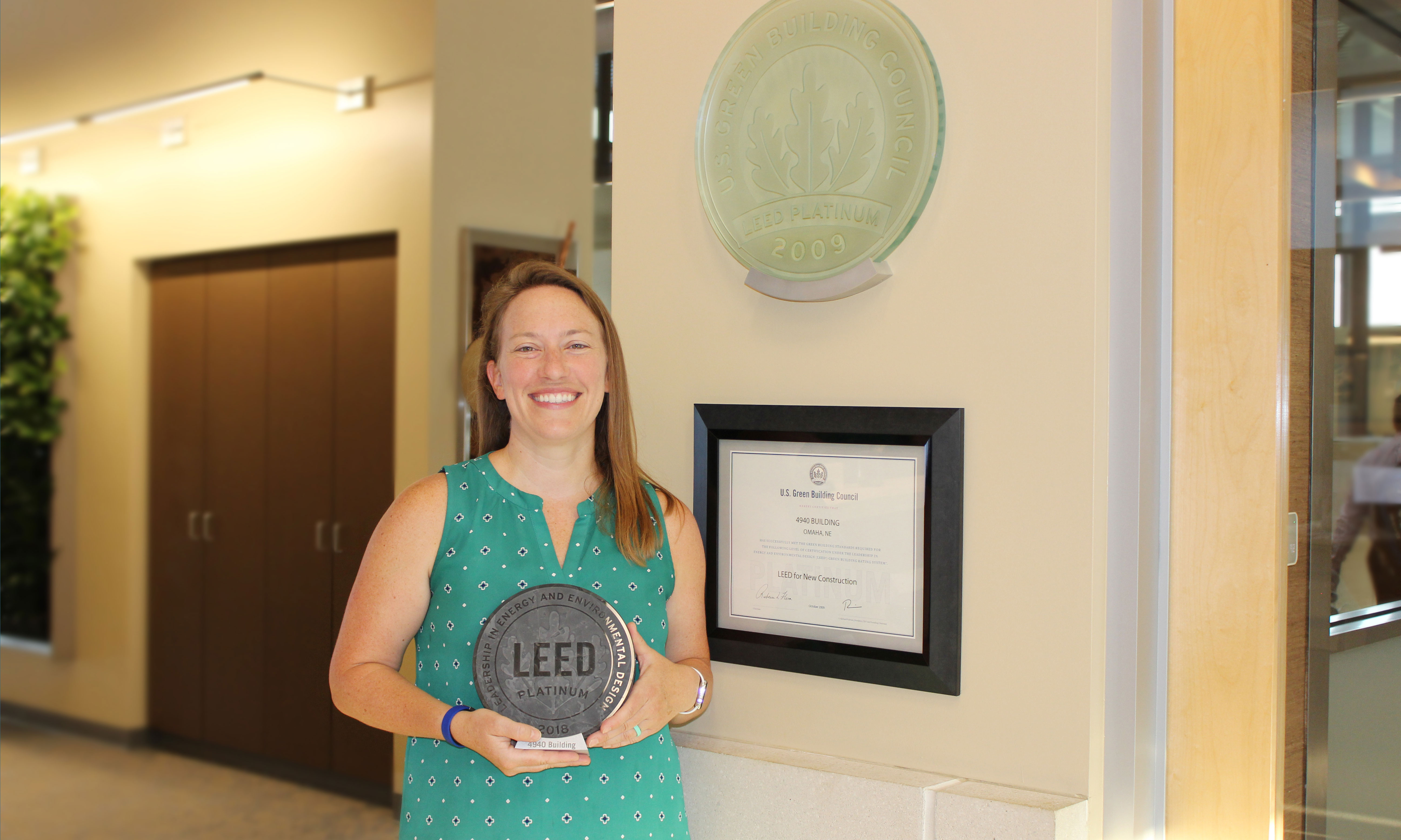 Omaha, NE – 9/9/2021 – Morrissey Engineering's Sarah Gudeman has been named a 2021 LEED Fellow by Green Business Certification Inc. (GBCI). Gudeman is among 21 professionals who represent this year's exceptional practitioners and leaders honored within the green building community who have demonstrated mastery of the technical application of LEED, the world's most widely used green building rating system. Gudeman joins an elite group of only 225 other LEED Fellows, worldwide.
Sarah Gudeman joined the firm in 2008 as a Mechanical Engineer and now functions as a Partner and the company's Director of Sustainability. She specializes in energy-efficiency, sustainability, health and wellness; working with architectural and owner teams to prioritize durable, resilient, passive design strategies and proven performance. Sarah is also passionate about volunteering through a variety of educational endeavors to bring clarity and consideration to the indoor environments in which we live, work, and play, and their impact on the world. Sarah has served in leadership positions with the U.S. Green Building Council at nearly all levels, as a Pro Reviewer, local Chapter Member (and leadership roles), and Member Company employee. She continues to volunteer her time to better the future of the engineering industry in a variety of educational endeavors including the LEED Environmental Quality Technical Advisory Group (TAG) and dedicates time to many other community organizations and initiatives.
"Sarah is indisputably the person our clients and other local professionals think of and turn to when it comes to sustainability and LEED. She is the reason we are currently under contract on various projects to provide a wide variety of LEED consulting services, from design through construction, consulting to contractors, and operations." – George Morrissey, Principal
LEED Fellows are nominated by their peers and must have made at least 10 years of exceptional impact on LEED and hold an active LEED AP with specialty credential, among other requirements. The evaluation process includes extensive portfolio review and is carried out by the LEED Fellow Evaluation Committee and supported by GBCI. The LEED Fellow program was established in 2011 to recognize outstanding LEED APs who have demonstrated exceptional impacts with LEED in key mastery elements related to technical knowledge and skill; a history of exemplary leadership in LEED; significant contributions in teaching, mentoring, or research with proven outcomes; and a history of highly impactful commitment, service, and advocacy for LEED.
"The 2021 cohort of LEED Fellows are driving the movement for sustainable buildings and healthy lives around the world," said Mahesh Ramanujam, president and CEO of U.S. Green Building Council (USGBC) and GBCI. Through their commitment to LEED and the green building sector, this year's fellows have demonstrated true leadership in the industry, and their contributions have had a real impact on people's lives, building stronger, more resilient communities."
The 2021 LEED Fellows will be recognized at this year's Greenbuild International Conference & Expo on the main stage on Thursday, September 23. Visit greenbuildexpo.com to register for the conference and usgbc.org/credentials for more information on professional credentialing opportunities.