Our LEED Platinum Certified headquarters, the 4940 Building, showcases our commitment to sustainability and the environment, while simultaneously offering a creative cultural atmosphere.

The 16,880 square foot building meets some of the highest performance standards possible for energy efficiency and environmentally-friendly practices set by the Leadership in Energy and Environmental Design (LEED) rating system. The building consistently ranks in the top 2 percent of comparable buildings in the country for energy efficiency. As the provider of the mechanical, electrical and technological design services for this building, this certification validates our unique qualifications to provide designs that meet the industry's highest level of operational efficiencies, environmental performance, comfort, and functionality.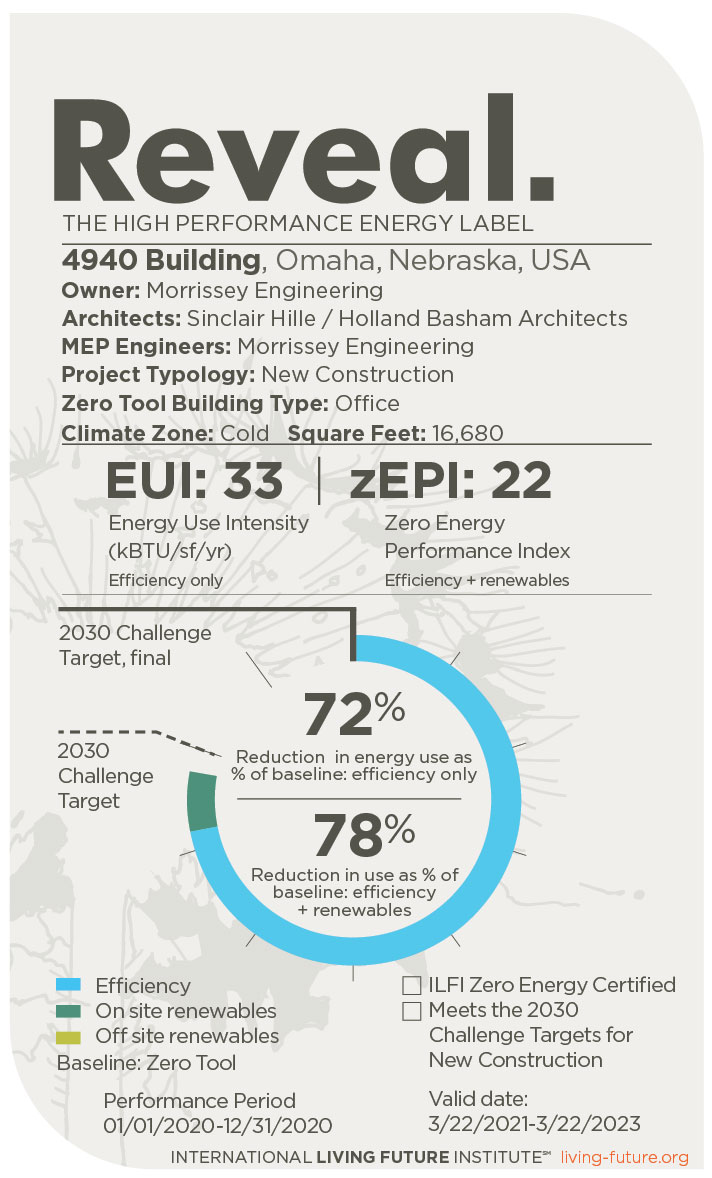 The building includes the following features:
40 percent reduction in CO2 emissions and an approximate 40 percent savings in utilities compared to the baseline building design
Renewable energy systems (rooftop photovoltaics and a wind turbine) each sized at 5kW
Ground-source geothermal heating and cooling HVAC system
All-electric building, allowing for easy real-time submetering and energy analysis
Low-flow plumbing fixtures with bike storage and showers
Exterior rainwater capture from the roof to onsite man-made pond for irrigation, with weather-based controls
Daylight and occupant-sensing lighting controls
Reflective roofing and parking lot paving materials to reduce heat absorption
Recycled and regional building materials to minimize carbon footprint
Direct quality views to the outdoors for over 90 percent of staff, from their desks or the outdoor patio that overlooks the pond and water feature
UV-C lamps in all heat pumps with MERV 13 filtration at the energy recovery unit and low-emitting materials for exceptional indoor air quality
Various ongoing energy improvements including LED parking lot lights, enhanced heat pump motors, BAS programming upgrades, envelope improvements, and more.
Addition of a living wall installation in the café in 2018
Ongoing indoor environmental surveys for employees to gauge building performance
An addition completed in 2019 added 1,300 gsf
Installation of a new 50-gallon heat pump water heater in 2022 that is four times more efficient than the previous unit and will provide cooling to our server room year-round.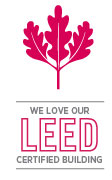 Contributors to this project included Sinclair Hille Architects, who provided conceptual design; Holland Basham Architects, the architect of record; and Meyers Carlisle Leapley Construction Co., the general contractor.
Since original certification (first LEED Platinum in Nebraska), we have continued to push performance, with LEED v4 Recertification in 2016, LEED v4.1 Recertification using Arc for EB: O+M in 2018 (the first building in the U.S. to do so) and LEED v4.1 Recertification O+M: Existing Buildings in 2022 (our 4th LEED Platinum certfication). With this latest recertification, our 4940 Building is one of only eight across the nation to earn a quadruple Platinum certification. We continue to benchmark using various industry-leading metrics for sustainable operations and are always working to remain at the forefront through leading by example.
Morrissey Engineering is one of the leading and most progressive LEED engineering firms in the state, especially when it comes to sustainable design. We have designed and consulted on numerous sustainability projects and are ready to help you with your new or existing building. Read more about our Sustainability Consulting services or Contact Us to schedule a building informational tour.