Back to News
Sarpy becoming data central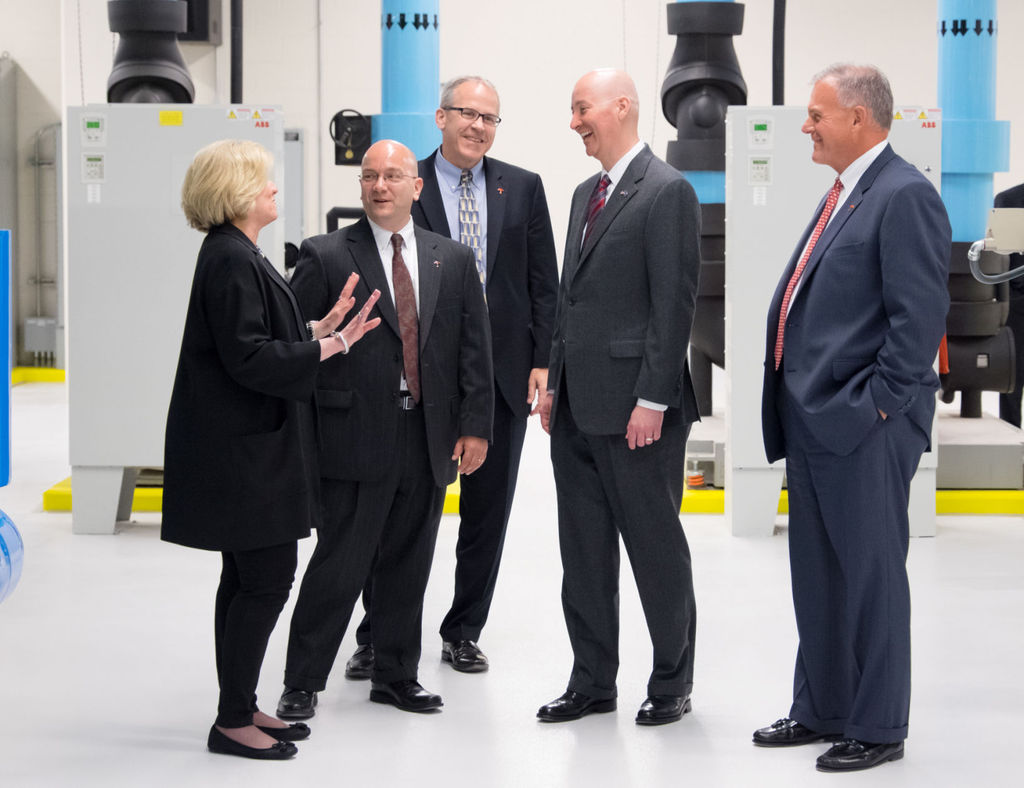 Dwarfed by equipment in the new data center's generator room, Travelers Cos. executives and Gov. Pete Ricketts look over the site Monday at 14715 Schram Road. Other companies choosing Sarpy County as a spot to build a data center include Fidelity, Yahoo, Cabela's and Cosentry.
By Janice Podsada / World-Herald staff writer
The red umbrella, the familiar symbol of Travelers Cos. insurance group, is now a part of Nebraska and Sarpy County.
Company, local and state officials, including Gov. Pete Ricketts, cut the ribbon Monday on Travelers' $200 million data center, a 183,000-square-foot facility at Nebraska Highway 50 and Schram Road.
Andy Bessette, Travelers' executive vice president and chief administrative officer, said the company conducted an extensive search before deciding to build its newest data center in the state.
"We knew Omaha was the right cultural fit," Bessette said. "Your commitment to economic development, to community, is second to none."
Ricketts welcomed the New York-based company, one of the largest property-casualty firms for auto, home and business insurance, to the state.
"I congratulate all of the folks that came together to put this investment in Nebraska. It's a great day for the state," Ricketts told a group of about 100 invited to the center's unveiling. "We hope you'll want to continue and grow here in Sarpy County ... and continue to grow in Nebraska."
Travelers joins other companies that have built data centers in Sarpy County, including Fidelity, Yahoo, Cabela's and Cosentry.
The Travelers center will be able to run all of the company's technology systems, including critical IT infrastructure functions. Travelers operates one other data center in the United States, in Norcross, Georgia.
Construction on the 140-acre property, which formerly housed an old wooden barn, began about two years ago. Portions of the old barn have been incorporated into the center's design. A decorative roof gable adorns a meeting room near the building's entrance. Siding from the barn points toward photographs chronicling the construction.
At the peak of construction, more than 200 people worked on the project. Altogether, more than 800 people have done so.
The data centers' computers are housed in a 30,000-square-foot area. Heating and cooling systems, backup diesel generators and a backup battery system occupy other portions of the center. Most of the center's equipment and machinery have come from area businesses.
The facility also includes 26,000 square feet of office space that will be used around the clock by the center's operators.
When fully staffed, the data center will employ about 30 people, most in technology jobs. Company officials said that before committing to the project they met with local colleges to make sure the company could recruit enough tech-savvy employees. They were impressed with the numbers and quality of potential workers.
"We were comfortable that we would be able to fulfill the technical jobs here," a company spokesman said.
The building is expandable, with room for a second 30,000-square-foot data center already built into the facility. The energy-efficient data center, supplied by two sources of power, is built to withstand winds of up to 165 mph.
Bessette also thanked the state's Department of Economic Development, the Greater Omaha Chamber of Commerce and Sarpy County officials, and he credited the Omaha Public Power District for its role in creating a secure "redundant" power supply system, critical to data center operations.
Brenda Carlisle, chairwoman of the Sarpy County Board, said the county has optioned land and is promoting the location as a good place for other data centers.
"We don't need a valley," Carlisle said. "We have a Silicon Prairie of our own."
Travelers employs 30,000 people worldwide.
Copyright ©2015 Omaha World-Herald. All rights reserved. This material may not be published, broadcast, rewritten, displayed or redistributed for any purpose without permission from the Omaha World-Herald. To purchase rights to republish this article, please contact The World-Herald Store.