Back to News
Omaha's budding midtown renaissance.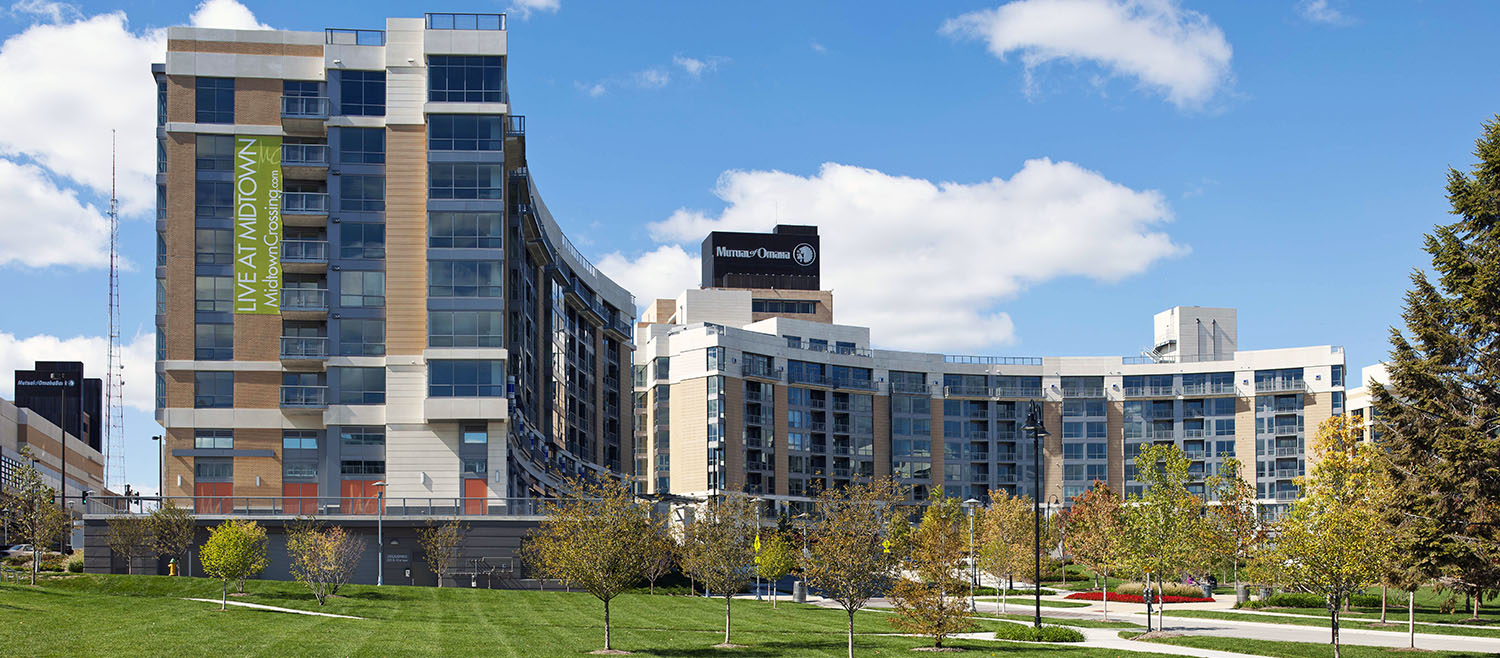 POSTED: SUNDAY, JUNE 21, 2015 12:15 AM
By Cindy Gonzalez / World-Herald staff writer
A once-barren tract near Mutual of Omaha's headquarters set the stage for Omaha's budding midtown renaissance.
The area now bustles with Midtown Crossing's 850 new residents, 40 businesses, a Westin-branded hotel and a spiffied-up park that will draw 300,000 visitors this year.
It's a work in progress, but ripples already have started to transform lesser-traveled areas around the development — streets like Marcy, parts of Mason and a formerly crime-ridden stretch of Park Avenue.
Five years after the ribbon was cut on Midtown Crossing, investment in the surrounding 3.6 square miles has grown beyond the $365 million Mutual of Omaha spent creating the 15-acre campus.
More than $160 million has flooded into the area when taking into account just the projects that were or are being developed with the help of a city-approved subsidy. Many others were built without using incentives.
"Midtown Crossing is a great example of a catalyst redevelopment project," said Omaha's urban design manager, Jed Moulton. "It created its own economic impact and began to reveal the hidden demand for urban high-quality living."
Development that has come in the wake of the Midtown Crossing project includes the rehabilitation of century-old housing near 31st and Marcy Streets.
The area is by a strip of Park Avenue that had been plagued with prostitution and drug-dealing. Urban Village Development bought and revamped eight problem apartment buildings along that avenue as well.
The neighborhood's stabilization created a mood for other developers, such as Bluestone, to construct "geeky cool" apartments with bike lockers, Wi-Fi and other millennial-alluring amenities, such as a "Vegas-style pool" and golf simulator.
Today, midtown commands some of the highest apartment rents in the metropolitan area. Eclectic shops and hot dining spots have sprouted, and construction projects dot corridors that are among the city's most aged.
If Cassi Wigington is any indication, there is a market to buy midtown houses, even at a price near $250,000 — which some rehabilitated homes in the area are drawing.
"At first I was apprehensive," said Wigington, who left a suburban acreage last year and purchased a renovated house for her and her two young children. "We absolutely love it — and the culture."
To be sure, the growing number of jobs at the expanding University of Nebraska Medical Center, west of Midtown Crossing, also has driven the area's turnaround. The campus has added 1 million square feet of research, office and educational space in the past decade, said Bob Bartee, vice chancellor for external affairs at UNMC. It has another million square feet under development.
Also setting the stage for the area's resurgence: local Fortune 500 corporate leaders, merchants, neighborhood activists and city officials who banded together in the early 2000s to form Destination Midtown. Over a two-year period the alliance drew up a master plan that envisioned what the area could become.
Though there's still much to be transformed — particularly in a slower-growing retail and residential area north, toward Cuming Street — neighborhood, business and city leaders say today's midtown is not the same as the one before the groundbreaking on the seven-structure Midtown Crossing that stretches a half-dozen blocks around 33rd and Farnam Streets.
Consider these changes since 2007:
» Total real estate value within Destination Midtown boundaries (generally, Center to Cuming Streets; 24th Street to Saddle Creek Road) jumped about 28 percent, according to figures from the Douglas County assessor. Citywide, valuation rose about 21 percent.
» UNMC's facilities — some new and some still being renovated — are set to add investment of nearly $700 million.
» Urban Village's rehabilitation of about 400 homes (mostly apartments) brought nearly $40 million to the area. Additionally, the developer and property manager has started work on creating a $22 million apartment complex.
» Green Slate Development has drawn nearly $25 million to the once-bleak Blackstone business district. That doesn't count what commercial tenants paid to tailor their own spaces, but does include two just-started apartment buildings. Another $5 million in newly constructed retail and residential space is anticipated in the next year, said Green Slate's Matt Dwyer, but details have not been announced.
At Midtown Crossing itself, 40 businesses are operating. The reshaped Turner Park is expected to draw nearly 300,000 visitors this year for various events, up from about 40,000 the first year, said development spokeswoman Molly Skold. Overall, she said, the occupancy rate is about 90 percent at Midtown Crossing's 200 apartments and 300 condos.
Surveying the changes in the midtown area, business and city leaders are a bit stunned.
"It's like a quiet revolution making transformative change," said Doug Bisson, the HDR urban planner whose team wrote the group's report.
"We called for this to be a destination — that's exactly what happened," said City Planner Bridget Hadley.
Of course, other factors lined up to allow midtown to take off. The Great Recession and housing market collapse pushed many young people away from weighty purchases such as a house. Millennials locally and nationally were flocking to rental options in bold urban neighborhoods.
Midtown Crossing offered a mix: apartments, as well as luxury condos for baby boomers and professionals who could afford to buy them.
City officials, meanwhile, wanted higher density in the city's core and were approving tax-increment financing at levels not seen in decades. Midtown Crossing itself was approved for $37 million in TIF, which allows businesses to use a portion of their future property taxes to pay certain upfront costs.
As recalled by business and neighborhood leaders, the midtown mushrooming took root as two giant employers, Mutual and UNMC, began assessing their own backyards.
UNMC's Bartee said the medical campus was updating its master plan as 2000 approached, and planning for future growth. "We needed to think about our larger environment — how do we improve the quality of life for people in our area?"
Mutual of Omaha had trimmed its business, dropping its home office employment from 6,900 in 1986 to fewer than 4,000 in 2010.
The company owned several blocks of unused property.
"We were adding to the challenge that midtown was having," said Dan Neary, who at the time was Mutual's chief executive. "Even your employees don't like driving by buildings that are empty."
Destination Midtown released its 160-page vision in 2004. Ground was broken in 2007 on Midtown Crossing, and it opened in 2010.
Said Neary: "We were told by the experts that if you do the core development, that main investment, other private developers will come in and see the potential you created."
Enter Urban Village's Jerry Reimer and Scott Semrad.
They were convinced that people would rent in midtown, at hot market rates.
"What we found is that the location is fantastic, the neighborhoods are fantastic," Reimer said. It's just that "the product is 100 years old and needs reinvestment."
Backed by their investors and buoyed by Mutual's commitment, their team bought distressed and condemned properties within a six-block radius of Midtown Crossing. They gutted and revamped.
Nate Goodrich, a UNMC pediatric resident, leased an Urban Village town house near 31st and Pacific Streets with other students. The three-bedroom renovated residence rents for about $1,400.
"You knew they were going to try and change the neighborhood; we were fine with paying a little more," he said.
Goodrich later married and, for about five years, has lived with his wife, Stephanie, a teacher, in another Urban Village house that they bought near 39th and Mason Streets. Most attractive was its proximity to both their worksites.
He said they were turned on by the flurry of redevelopment at areas including Blackstone, a once-forlorn commercial district now dotted with hip restaurants, pubs and shops near 40th and Farnam Streets.
"We're a 10-minute walk from all that new stuff," Goodrich said.
With a few hundred renovated units in its portfolio, Urban Village became a sought-after source of advice. Reimer started a weekly breakfast club for landlords and developers interested in improving the area.
Among them was Spencer Lombardo, who with Steven Held is building three new town houses near 31st and Marcy Streets. Their plan is to sell each at about $275,000 — and build more on lots they're amassing.
Christian Christensen, whose Bluestone Development is behind the $15 million Spaces Apartments that opened last year at 501 Park Ave., said he wants to launch another large-scale rental project in midtown. The challenge is finding the land.
At Spaces, they demolished an old health club to build the 154-unit complex.
"If I could buy five more like it, I'd buy them tomorrow," he said, adding that Spaces rented up a year earlier than projected.
Christensen, whose focus had been mostly downtown, with properties including the Rows at SoMa and 9ines Lofts, said he recognized the thirst for midtown when wanna-be urban-dweller customers started asking for units toward Midtown Crossing and Aksarben Village. "Overnight it became different," he said of the area after Mutual's development.
Jerry Torczon, a veteran developer of suburban neighborhoods, said he was surprised by his first entry into midtown.
Torczon's son had pointed out a six-parcel property for sale near 34th and Harney Streets. "We put an offer in and within hours [there] were 12 backup offers."
Torczon aims to finish the $3.8 million apartment project, steps from Mutual, by year's end.
Across Dodge Street to the north of Midtown Crossing, redevelopment has been slower.
Former city planning director Steve Jensen suspects interest will pick up after the fate of the Creighton University Medical Center at 30th and California Streets is determined. CHI Health is moving from that site in 2017.
For now, Urban Village's Semrad said he's pleased with the caliber and number of developers that have popped up in the area, but said that increased competition "cuts both ways."
"It a little harder to get every deal you want," he said. "But we plan to keep going."
Contact the writer: 402-444-1224, cindy.gonzalez@owh.com